Stars grey
wash+dry Design -
Product Information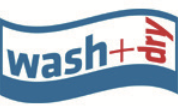 wash+dry Design mats combine quality with durability and timelessly elegant styles - they help you to create the perfect atmosphere for every living room!
All wash+dry Design mats are machine washable up to 60°C and suitable for tumble drying even up to 90°C. They are easy to maintain, with stay-flat edges, noise absorbing and slip resistant. Our wash+dry Design mats are manufactured in Europe with a 100% nitrile rubber backing. The perfect choice for pet owners and allergy sufferers.
QUALITY:
Pile:
100% Polyamide
Backing:
flat and 100% PVC free
Backing material:

100% nitrile rubber

Coloration:
Jet-Print printing process

Total mat height:

7 mm
Total mat weight:

1.92 kg/m2
Quality note:

ÖKO-TEX Standard 100

IS-OETI TESTED Certificate
SIZES:
40 x 60 cm
50 x 75 cm

all items promptly from stock

wide range of styles
PRODUCT DETAILS:
· 5 years guarantee
· Made in EU
· Hygienically clean
· Washable up to 60 ̊C
· Suitable for tumble dryer up to 90 ̊C
· Perfect for pet owners and allergy sufferers
· Colour brilliance
· Suitable for floor heating
· Noise absorbing, slip resistant and PVC free
· Stay flat, will go underneath most doors
APPLICATION AREAS:
The wash+dry Design floormats are extremely versatile - whether in the kitchen, the living room, the hall, in front of or behind the entrance door, in the children's room, at the terrace door or in the car boot, they ensure perfect hygiene and fashionable designs.
CARE INSTRUCTIONS:
Washing: washable up to 60 ̊C
Drying: tumble dry up to 90 ̊C

Before first use, wash your wash+dry Design floormat separately (according to care label) at 60°C and with mild detergent. In doing so the fibers are activated, the fabric is enabled and transport-related folds and creases are smooth again. Wash the mat on a lower level with about 800 rpm. When tumble drying the mat, select max. 90°C or the programs "easy care" or "mixed fabrics". Alternatively to using the tumble dryer you can also lay the mat flat out to dry.
Please refer to the respective maximum load of your electrical devices. Service the wash+dry mat three – four times a year, in case of extensive use more service might be needed.
For all washable mats we reserve the right of production- related tolerances of +/- 5%, as well as colour deviations of +/- 10%.
More info about Products:
Phone: +371 27889902
e-mail: info[at]redcarpet.lv